Juice chiller machines/ chiller for juice production line/ Beverage Water Cooled chiller

As a leading water-cooled screw chiller manufacturer with almost 20 years of experience since 2003,MGREENBELT Chiller provides a complete range of water-cooled screw chiller from MG-WS series.
The MG series of water cooled chillers offer the most advanced design to satisfy today's industrial cooling requirements.
The entire range is assembled with components developed with well know manufacturer. The complete MG series of packaged air cooled /water cooled chillers offer max efficiency together with total reliability and are manufactured to the highest quality standard.
This new generation of water chillers is built on years of experience, the result of which is the MG series which incorporates many major advanced standard features that other suppliers charge as extra.
Feature:
1) .Cooling capacity from 7ºC to 35ºC, or if need lower outlet temperature please inform us change the offer;
2) .Stainless insulated water tank and anti-freeze thermostat can provide from us;
3) .R22/R407c/R404a/R134a refrigerant used as standard for efficient cooling.
4) .Refrigeration loop controlled by high and low pressure switches.
5) .Compressor and pump overload relays.
6) .Tube-in-shell condenser design for quick heat transfer and excellent heat radiation.
7) .Tube-in-shell evaporator for excellent cooling.
Chiller Details:
Well-known Brand Compressor
Unit adopts Germany BITZER or Taiwan HANBELL brand semi-hermetic screw compressor. The latest 5 to 6 patented screw rotor profile with excellent efficiency.
Adjustable infinite or closely stepped capacity control, features energy efficient, stable and quiet running.
Most advanced patented highest precision manufacturing process.
Built-in full intelligent monitoring and protection including thermal motor temperature monitoring, phase sequence monitoring, manual reset lock-out, oil temperature sensor.
Wide range of refrigerant for option, including R134A, R407c and R22(R404A, R507c upon request).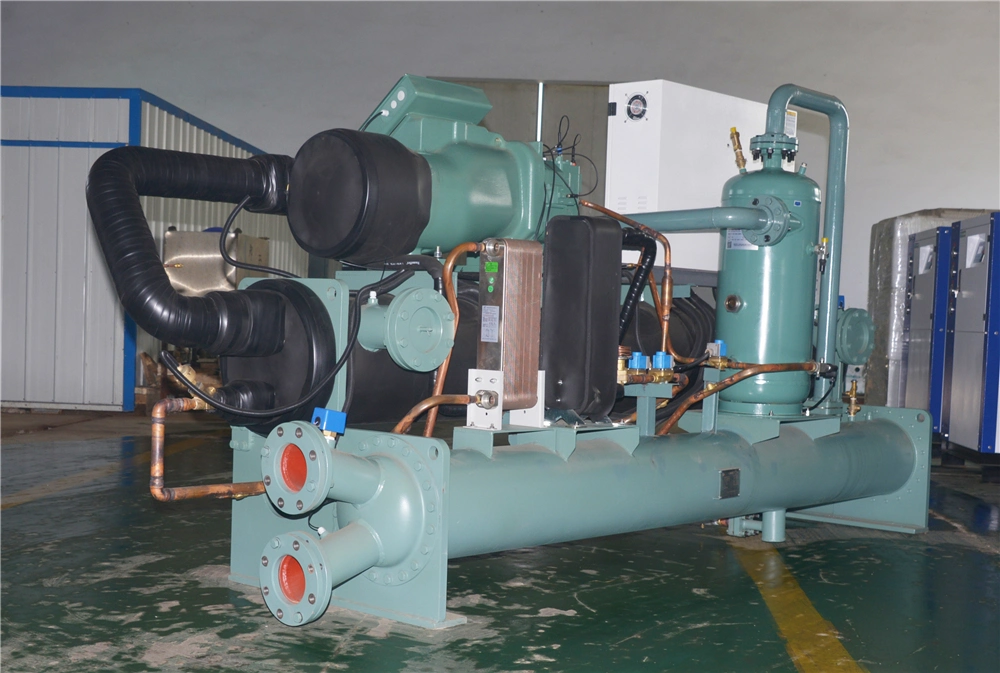 Cooling capacity: 88kw - 800kw( 25 tons - 225 tons).
Refrigerant R22, R407C, R134A or R404a.
Screw compressors normally employed for medium to large cooling capacity, BITZER, HANBELL for options, the output power of screw compressor can be controlled automatically by control system. Furthermore, there are four phases for choosing: 25%-50%-75%-100%. And the motor of the screw compressor is star delta start to reduce the impact on power grid.
Shell and Tube type condenser is normally called water cooled type,this series chiller need to employ water cooling tower to discharge the heat, which is always used for large cooling capacity or the local place temperature is higher than 40 degree celsius.
Adopt microcomputer controller, display the temperature ,protect, fault code and etc to the control panel, easy to operate, PLC for options.
The electric components we use SCHNEIDER brand, as you know the electricity is very important for the chiller, also affect the safety of the operator, schneider is what we trust.
High efficient shell and tube type evaporator and condenser to save 30% energy.
Refrigerating system welded with oxygen free method ,to reduce oxides and ensure the smooth surface.
Easy Installation, Reliable Running
Closely stepped start-up, minimize impact to electricity.
Steady and safe running, low vibration, easy for installation.
Compact structure, less space demand and light in weight, easy for transport and installation.
Completely wired, inspected and tested pre-delivery, saving installation time and cost.
Moves the parts to process strictly ,wipes the row of gas oil counterbalance design specially, the maintence cycle is long ,the trouble-free moves above for 40000 hours.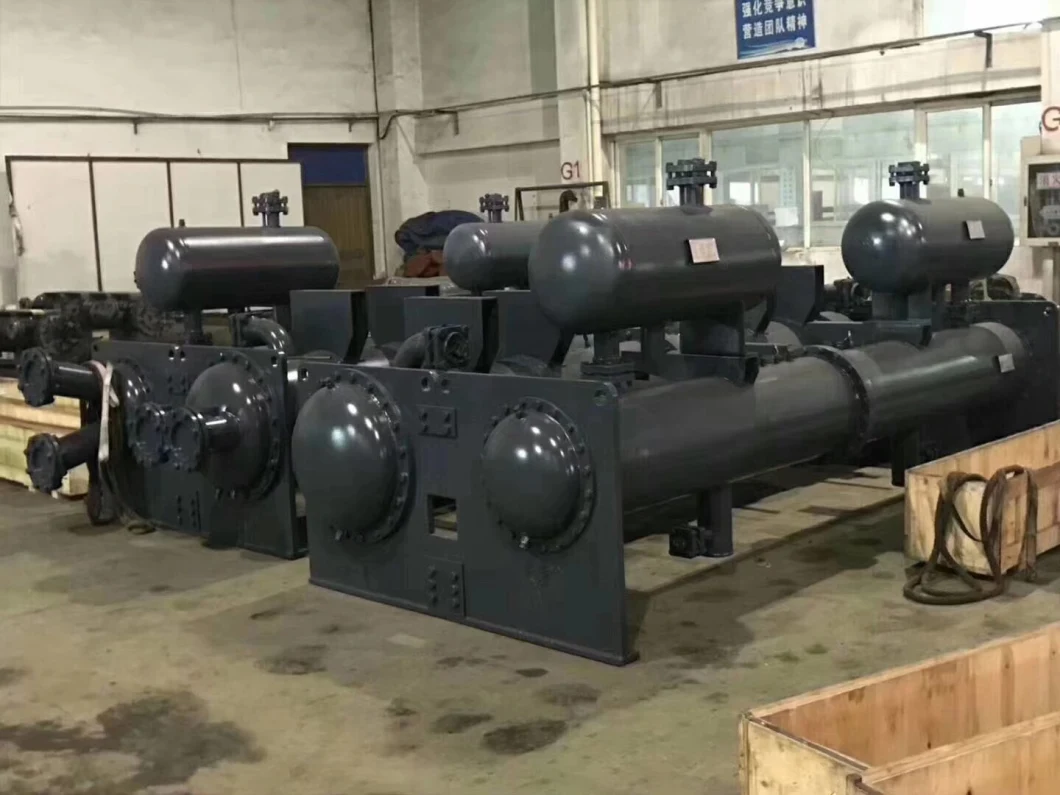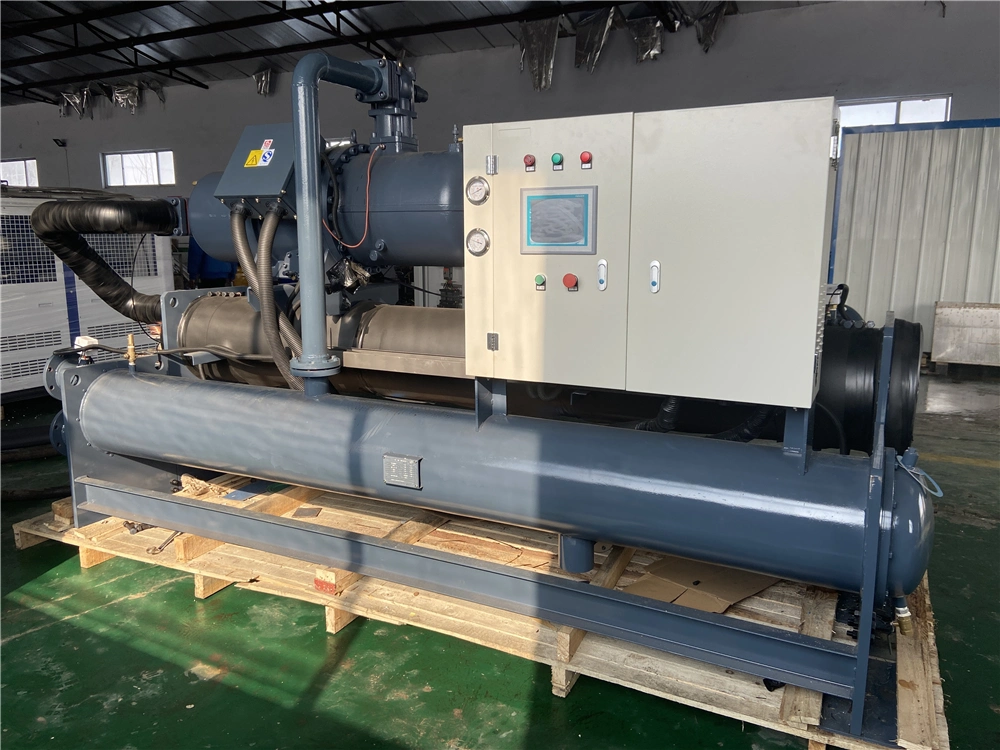 We provide complete whole system for Water Cooled Water Chiller
(1). Water Cooled Water Chiller
(2). Water Cooling Tower
(3). Stainless Steel Insulated Water Tank
(4). Water pumps

• Shell and tube evaporator and condenser, high efficient thread red copper tube (material change on request).
• Siemens PLC control, LCD touch screen interface, easy operation, Standard design charged.
• R22, CFC free R407c, R134a for option.
380V-415V-480V/50/60HZ, 3PH for standard design. Chiller unit can be supplied according to diffierent requirements.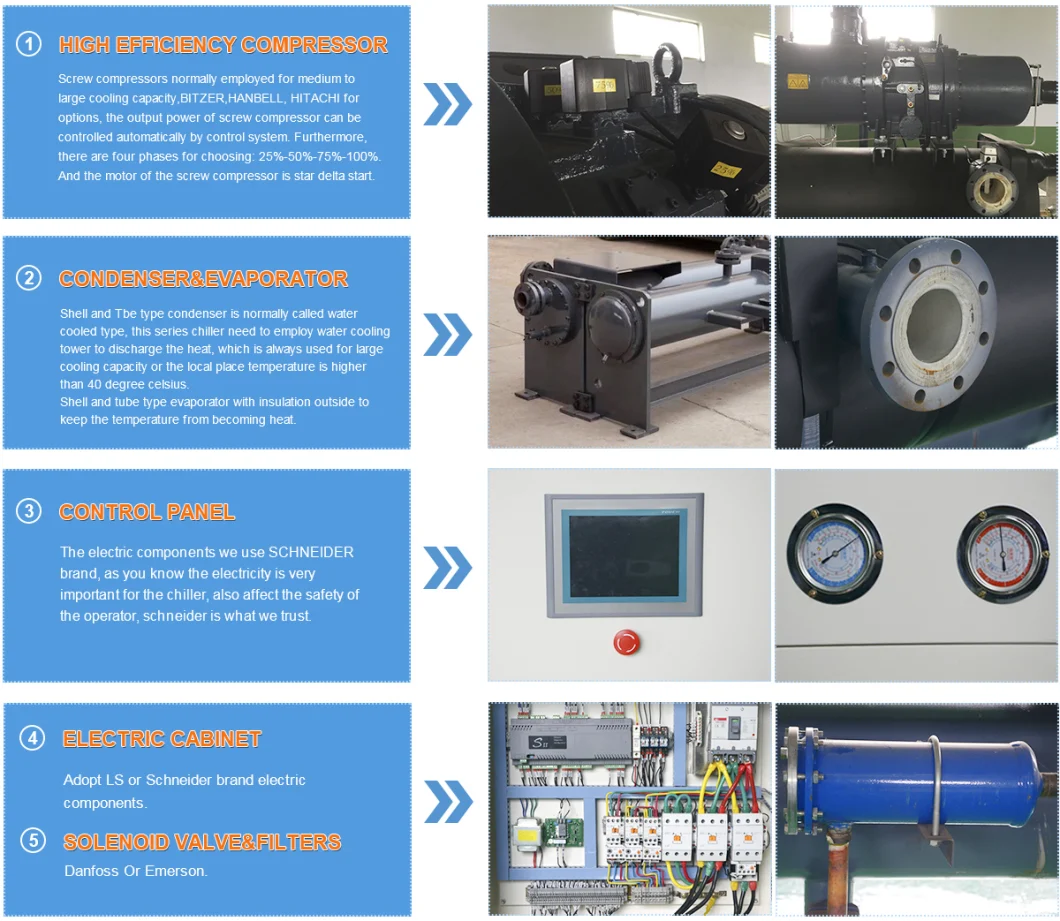 Data Sheet
Type

MG-30W

MG-40W

MG-50W

MG-60W

MG-70W

MG-75W

MG-85W

MG-90W

MG-100W

MG-110W

Cooling capacity

0ºC

kw

67.8

92.5

121.3

132.1

161.1

176.8

208.3

220.1

240.8

260.7

-5ºC

kw

55.7

76.0

99.7

108.5

132.3

145.2

171.1

180.8

197.8

214.1

-10ºC

kw

45.4

61.9

81.2

88.5

107.8

118.3

139.4

147.3

161.2

174.5

Power Supply

380-420V,50HZ or 440-480V, 60hz

Refrigerant

Type

R22/R407C/R404A/R507

Control type

Thermostatic expansion valve

Compressor

Type

semi-closed screw type

Power(kw)

21.4

28.2

35.4

38.8

47.2

51.4

57.9

60.9

67.0

68.8

Start mode

Y-△

Capacity

25-50-75-100(%)or 25-100(%)




Evaporator

Type

High efficiency copper tube shell and tube type

Water Flow(m³/h)

0ºC

11.6

15.9

20.8

22.6

27.6

30.3

35.7

37.7

41.3

44.7

-5ºC

9.5

13.0

17.1

18.6

22.7

24.9

29.3

31.0

33.9

36.7

-10ºC

7.8

10.6

13.9

15.2

18.5

20.3

23.9

25.3

27.6

29.9

Inlet/Outlet Dia.(mm)

DN50

DN65

DN80

DN80

DN80

DN80

DN100

DN100

DN100

DN100




Condenser

Type

High efficiency threaded copper tube shell and tube type

Cooling Water Flow(m³/h)

16.8

22.8

29.5

32.2

39.3

43.0

50.2

53.0

58.0

62.1

Inlet/Outlet Dia.(mm)

DN50

DN65

DN80

DN80

DN80

DN80

DN100

DN100

DN100

DN100




Dimension

L

mm

2300

2300

2500

2500

2500

2800

3200

3200

3500

3500

W

mm

750

750

750

750

800

800

800

800

900

900

H

mm

1500

1500

1500

1500

1500

1500

1500

1500

1500

1800

dB Noise

73.1

73.7

74.8

78.4

79.0

79.2

79.5

80.4

80.4

83.1

Weight(KG)

660

700

800

975

1000

1150

1250

1400

1600

1750
Advantages of water cooled chiller
1). Water cooled chiller with higher efficiency and energy saving, condenser cooled by cooling water from cooling tower.
2). smart design, just need small space and low noise without fans.
3). Price is cheaper than air cooled
4). Most popular for larger production process and hot place.
Application Industry
MG-WS series Water Chiller can precisely control the exactly temperature , which requested by the modernized machinery production, and greatly improved the production efficiency and product quality. MGREENBELT Industrial chiller is a good partner for the modernized industry , which feather as easy to operate with reasonable design, high quality and complete range of specifications.

Food (Beverages, Confectionery, Chocolate, Storage)
Plastics (Injection, Blow Molding, Extrusion, Film Extrusion, Thermoforming)
Paper (Manufacturer, Printing, Card Board, Labels, Plastic Film)
Chemical (Petro Chemical, Paints, Solvents, Temperature Control)
Mechanical (Welding, Cutting, Profiling, Polishing, Rolling, Grinding)
Other (Wood, Ceramics, Gold & Silver, Pharmaceutical, Textile)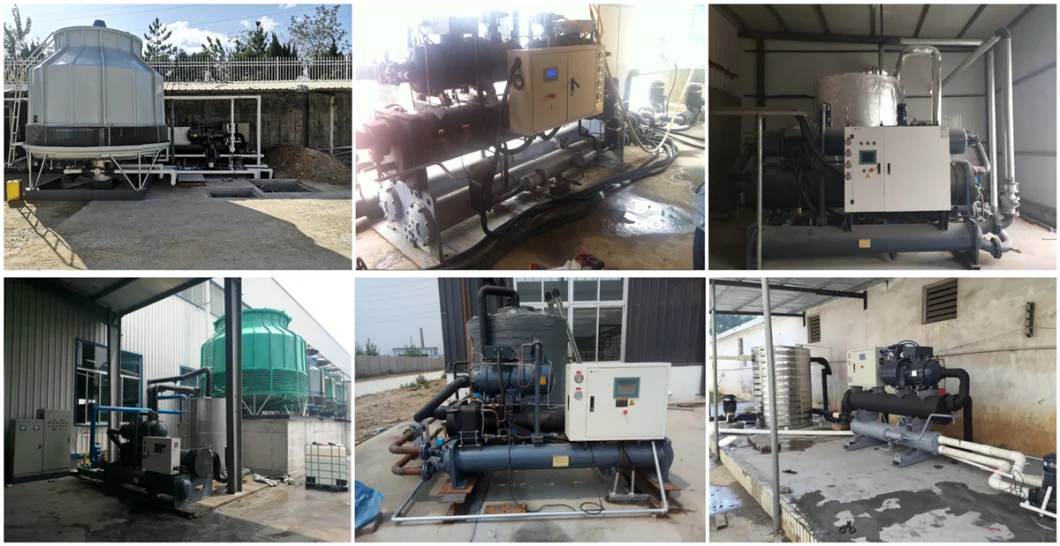 Package
Juice chiller machines/ chiller for juice production line/ Beverage Water Cooled chiller
Packaging : We consider all different potential situation in the delivery, so we use every prevention measures to avoid any potential inconvenience or trouble
a.Bulk cargo: Standard wooden case which can avoid any clash during the sea or air transportation in case of causing damage to the surface of our products.
b. Container cargo: the equipment will be bound firmly and won't easily swing to the side, or up, or down.

Shipping: Deliver from Qingdao, Shanghai, Guangzhou, Tianjin, Hangzhou, within 15-35 days after the payment.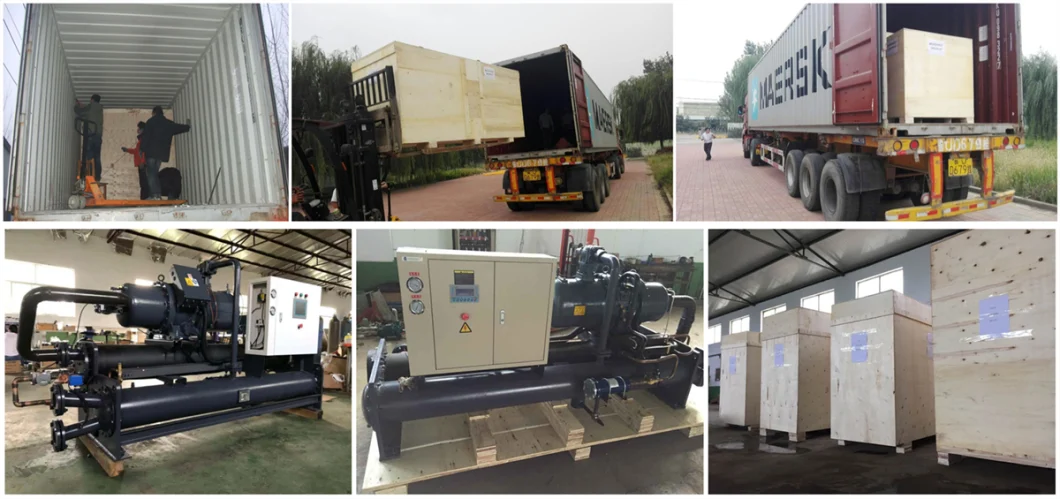 Certificate
Mgreebelt chiller got CE, UL, SABER, CSA certificate to different market.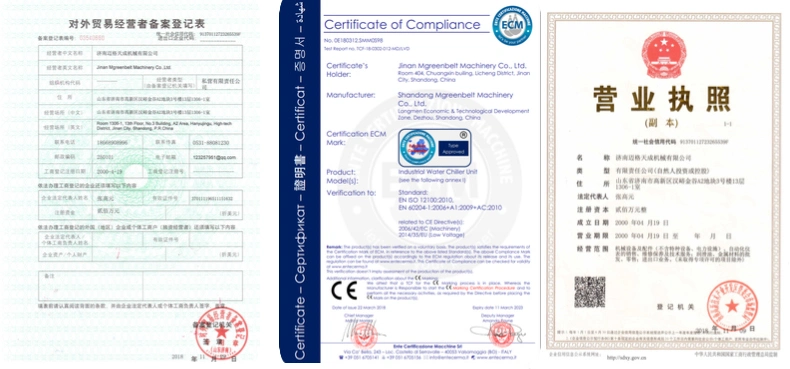 MGREENBELT COMPANY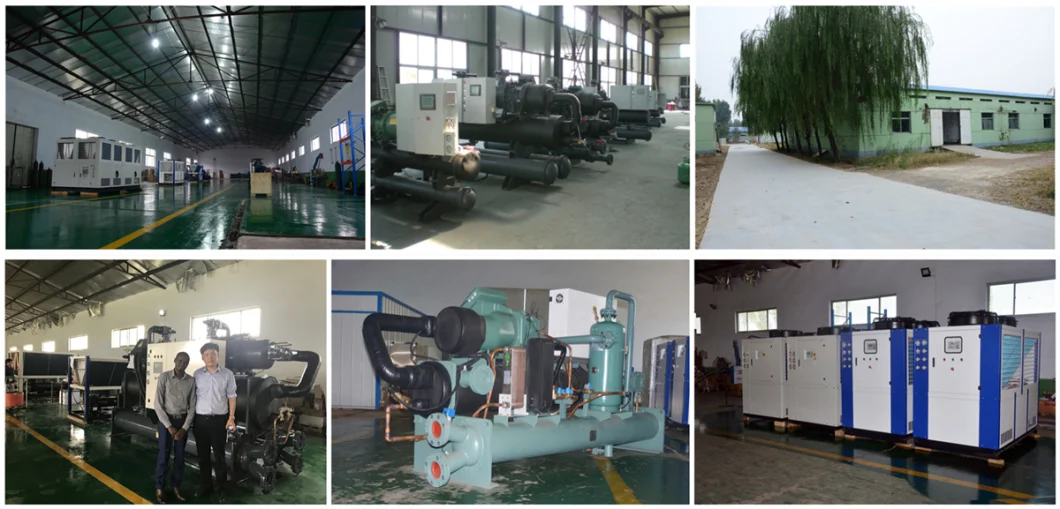 FAQ
1. Are you manufacturer or Trade Company?
We are OEM professional factory, founded in 2003.

2. What's the order process?
.Inquiry---provide us all clear requirements.
.Quotation---quotation form with all clear specifications.
.Contract confirmation---provide correct contract details.
.Payment terms--- T/T 30% in advanced, balanced before shipment.
.Production---mass production
.Testing: 8hours, to ensure the quality of the machine
.Shipping--- by sea, train, air or courier. Detailed picture of package will be provided.
.Installation

3.What terms of payment you use?
T/T, L/C,etc.

4. How to get a prompt quotation?
When you send the inquiry to us, pls kindly send it with below technical information.
1)water chiller type: Air cooled or water cooled
2)Cooling capacity: _____ Kcal/hr or _____KW
3)Refrigerant: R22 or others
4) Voltages and Frequency : ______V/PH/HZ
5) Application:

As a professional industrial chiller manufactuer and solution provider , we can supply kinds of chillers to meet your different cooling requirement, if the chillers above is not workable for you, please feel free send needs to us directly.
Contact Person: Libra Zhang